Stockholm Artwalk. Fun internal project where I got to learn a lot about art in the subway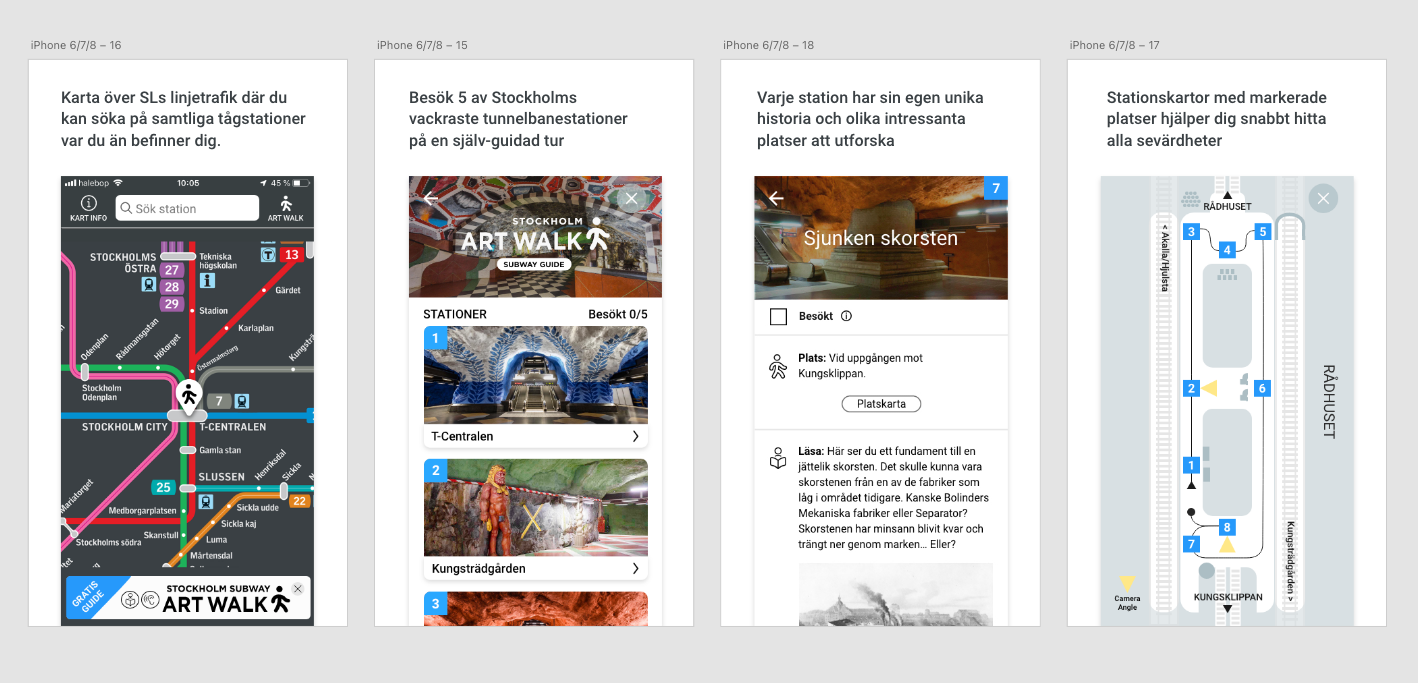 – UX/UI Designer
– Project manager
– Illustrator / photographer
– Illustrations of the stations
– Make logo
– Wrote texts (rewritten by Copy-writer)
– Take pictures
– Low-fidelity wireframes
– High-fidelity wireframes
We created a visual guide for the art in the Stockholm subway in three languages and in the form of an app. For a certain amount, you could unlock extra features such as a spoken audio guide. The app was also published as a tourist guide on Tripadvisor.
BACKGROUND
The consulting firm owned an in-house developed app that was based on SL's line map. The app was simple but had many visitors. We wanted to develop and make something more of it that also connects to the subway.
PROJEKT
The idea was to create a digital guide to the art in Stockholm's subway and name it Stockholm Artwalk. We started with the stations on the blue line; Kungsträdgården, T-centralen, City Hall, Stadshagen and Solna Centrum.
Parts of the project:
Research work, read what others had written on the subject and visit the stations
Photograph and film the stations
Determine the different points of interest at each station and write texts for them
Copywriter rewrites my texts
Translators translate the texts into German and English
Actors in each language read the texts to create audio files
Draw maps of the current stations
Build prototype in XD
Photograph the stations with a large format camera and tripod
Frontend guy builds the app
Build a website for the app in Swedish, German and English

See prototypeHigh-fidelity Wireframes