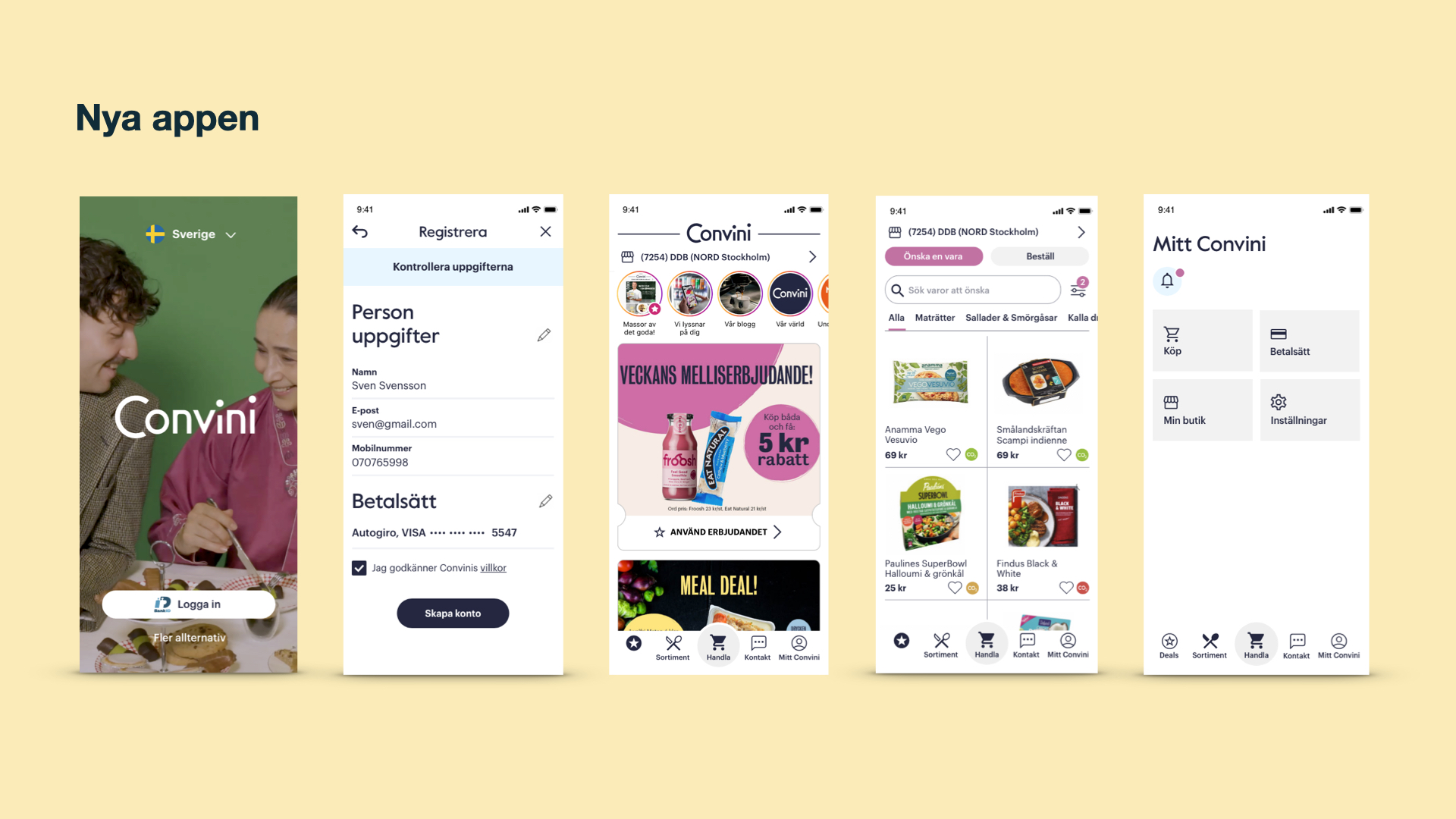 – Ux/Ui Designer
– Service designer
– Interaction designer
– UX/UI Design
– Visual Design
– UX Copy
– Illustration
The agency where I worked had served as Convini's partner since they started their digital journey more than 10 years ago. We constantly developed and improved their products to create a better experience for the customer and thus increased conversion. We also worked with various experimental projects. One example is Convini Go. A system that, through AI and machine learning, learns to understand when someone picks something out of the store and what type of item it is.
CONCEPT
The automated stores have the shape of a refrigerator or freezer and are usually placed in offices in lunch rooms or similar. Attached to the cabinets is a digital touch screen and a hand scanner.
The customer starts by registering and then logging into the app through BankId. He then picks out the desired goods from the store and scans them. The purchase and all transactions are reported on the screen. Invoicing takes place once per month digitally and in arrears.
Every two weeks, a different campaign offer is sent out and is visible in the form of email, on the store screen and in the app.
In total, Convini has around 1,400 stores in Stockholm, Gothenburg and Malmö. Also some in Germany.
MY ROLE
I worked with Convini for 2 years. Mainly in the role of UX/UI and service designer. I sometimes also chipped in with my previous knowledge in advertising and marketing when needed. I also wrote some UX copy texts. Including those in the new app.
EXAMPLE OF TASKS
– Create additional sales through motion graphic promotions on the store's touch screens
– Experiment project where customers can send gifts to each other
– New mobile app
NEW MOBILE APP
For a year I worked on creating a new app that was launched on the German and Swedish market.
Funktioner i appen:
– Unlock the doors to the shop
– If the customer has not paid the invoice, the app locks and must be unlocked by payment in the app
– Change payment method
– View transaction history
– Presentation of the various promotional offers
– Scan various promotional offers by barcode
– See the store's entire product range with pictures, price, product information
– Want goods for a certain store
– Product Reels
CUSTOMER BENEFIT
I acted as a sounding board directly against Convini's management team for 2 years. We discussed and tested various complex problems, innovative ideas and solutions that spanned different business areas.
Among other things, they got a solution for a completely new app, seen from a new perspective. I was involved in the development all the way from start to finish. Did research, sketched new flows, came up with clever functional solutions and finally pixel-perfect UI design.
My strength in the collaboration has been the ability to think holistically, to come up with different innovative solutions and to create functional design.

See prototypeXd low-fidelity wireframe
Suggested campaign style for the touch screens (located in the stores)

Animation in the app to describe receiving a gift