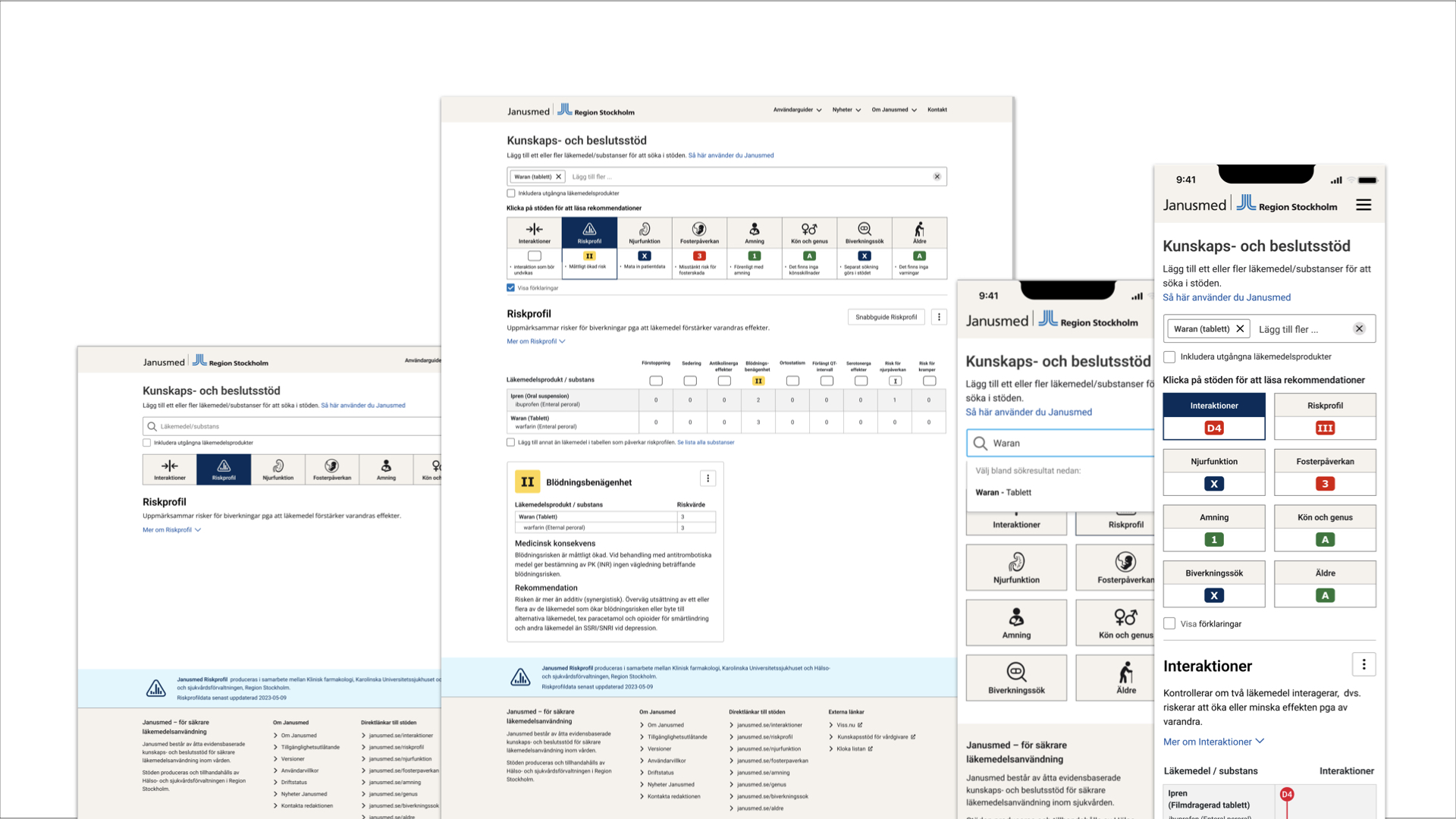 – Product designer
– Ux/Ui Designer
– Interaction designer
– User tests / Interviews
– Research
– UX Design
– Workshops
– Create efficient user flows
– Prototyping
– Interface design
Janusmed is a knowledge-based service from Region Stockholm that targets doctors and other healthcare personnel. It needed to be modernized and made more user-friendly, and a colleague and I were given the task.
BACKGROUND
The service was created many years ago by Region Stockholm, which still develops and manages it. It contains eight different evidence-based knowledge and decision supports and helps to contribute to a safer use of medicines in Sweden. Janusmed is available in two versions. A version that is integrated into various journal systems and another that is open on the web. The two versions contain different sets of knowledge support.
PROBLEM STATEMENT
Janusmed had been built periodically for many years, new knowledge support and more functionality had been added in batches. The overall structure had thus deteriorated and ultimately made it cluttered for the user to understand and use. It needed to be modernized.
THE ASSIGNMENT
The assignment included research work, facilitating workshops, design (UX/UI), accessibility adaptation (WCAG), strategic and agile working methods. The work was carried out in close collaboration with another Product Designer and with two different teams within knowledge support and IT.
Östen began the assignment by learning to understand how the service worked from the users' perspective. He studied how doctors used Janusmed in their work through interviews and user tests. He also gathered knowledge about how the service interacted within its ecosystem. After all the insights were gathered, ideas and design sketches were developed together with the team through workshops. Then prototypes were made in Figma and tested on users to get new feedback. Finally, pixel-perfect files were produced along with written instructions that were handed over to the developers.
An important part of the work was to understand and then discuss the question of how the service would function from an overall perspective.
CUSTOMER BENEFIT
A better developed and more user-friendly service creates great value for Region Stockholm and the entire society. With better knowledge support, it is possible to avoid incorrect medication, which saves both patients' suffering and resources in society.
The customer lacked their own expertise in UX/UI design.
The value was also great to have two product designs that could work together and highlight problems, challenges and think innovatively from different perspectives.
The customer received a new well-thought-out design delivered in the form of a lump sum payment.

See prototype Prototype Janusmed