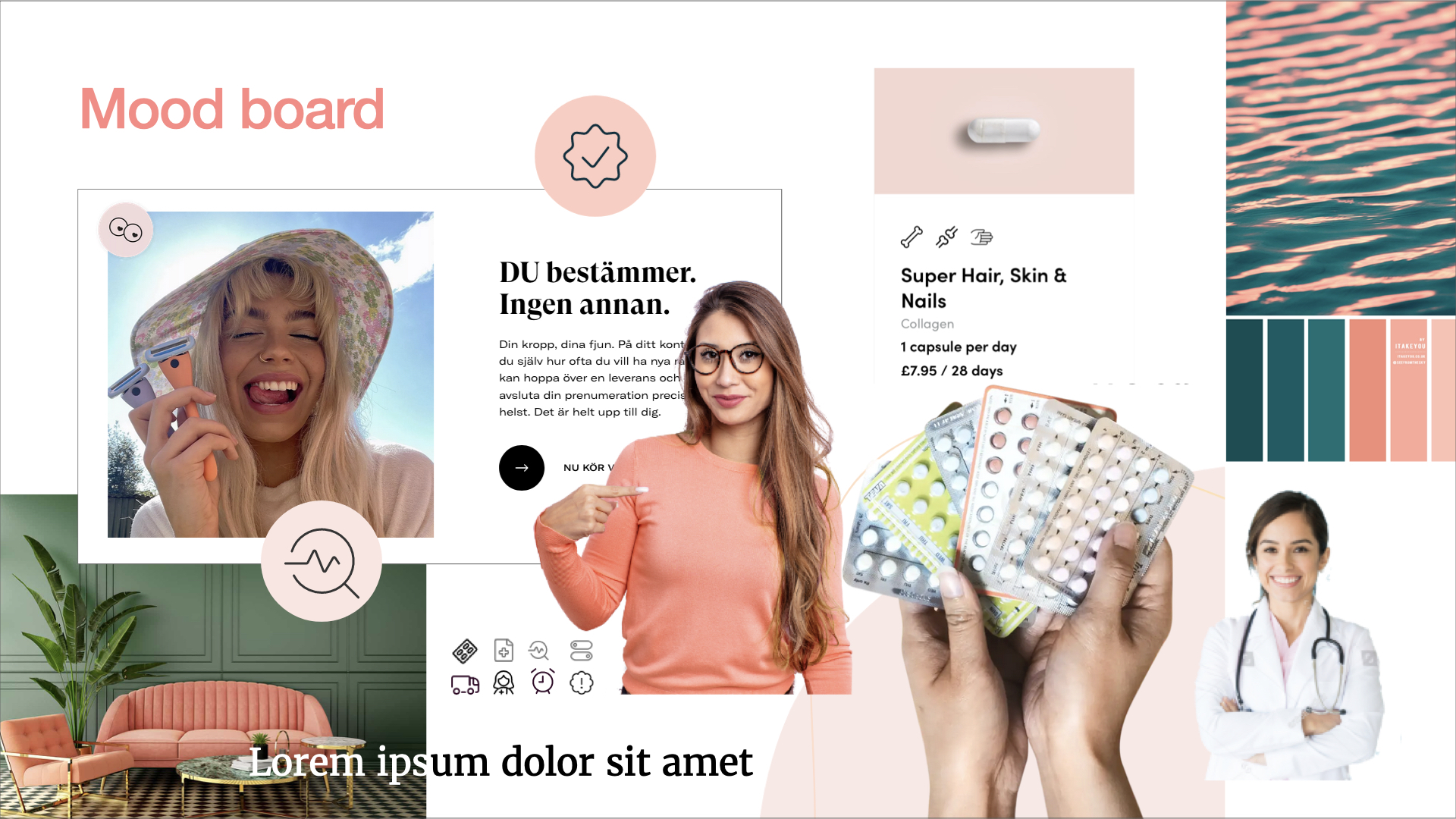 – Ux/Ui Designer
– Product designer
– Interaction designer
– User flows
– Prototyping
– User testing
– UI Design
– Branding
– Write UX-Copy (in English)
The start-up Prev contacted the agency I worked for in the fall of 2021 and wanted help with further developing their self-built product. A subscription service for birth control pills in the form of an app. They had heard that we specialized in building, developing innovative concepts and solutions. I then helped guide them through the process of creating a user-friendly product that users wanted.
BACKGROUND
Prev's business idea is to sell subscriptions to birth control pills through an app. Not in Sweden, but in markets where, for various reasons, it is difficult to get hold of birth control pills. Or where the level of knowledge about how birth control pills work is low. They wanted to be the expert who teaches in a matter-of-fact manner. At the same time, in the long term, you want to be more of a lifestyle app, than a traditional doctor online app.
The management of the subscription and communication with the user took place through the app. The physical products were delivered by local suppliers in the respective countries.
PROBLEM STATEMENT
Prev had been developing its own app for a year with the help of a team in India. They then also managed to get a few hundred subscribers as proof that the business idea worked.
The problem was that the service did not convert well in relation to the resources that were downloaded. The grim truth was that the experience of the service was poor and the majority of users dropped out of the feed before reaching the buy button.
MY ROLE
I helped analyze why the app wasn't converting well. Then gave various suggestions on how we could solve the problem. I built a prototype agilely which was continuously tested on the target group. Both physically and remote (India and Poland). Finally, designed and gave the service a feel based on the expectations of the target group.
CUSTOMER BENEFIT
The customer received a complete solution where most of the things were included so that they could later work on their own towards the goal of an increased conversion.
During the project, the customer gained an understanding of why it is important to think and understand the whole and not just focus on conversion. That is, how all the parts that comprise a service/product work together. For example; the brand's profiling, marketing, website, app, various systems, external suppliers and so on. The so-called contact points where the user meets and experiences them as a company.

See prototype Xd low-fidelity wireframe